Enduring Values for Changing Times
What began as a year of celebration turned into one unlike any we've seen in the last century. Here's how the values that built Minnesota Masonic Home helped it to thrive over the decades, and overcome a global threat in its 100th year.
When former Minneapolis math teacher and baseball coach, Doug Backhaus, spiked a fever in April 2020, he didn't think much of it. Sure, he felt a little weak, and he seemed to be coughing more; but he blamed his congestive heart failure for the anomaly and went about his business living in Minnesota Masonic Home's long-term care wing. When his nurse informed him that he had tested positive for COVID-19, his immediate reaction was to downplay the diagnosis.
"I didn't think I was sick enough to move to the COVID unit," said Backhaus of the Home's protocol to move residents who test positive for COVID-19 to a dedicated wing of the facility.
But Backhaus was indeed quarantined and given dedicated care, his caregivers covered head-to-toe in protective gear like characters in a sci-fi movie. The only family that could be with him was in the form of a picture of his wife, Judy, the "guardian angel" he had lost months earlier to cancer. He was one of the first patients in the unit.
"I was scared," said Backhaus. "I realized later that I wasn't scared enough."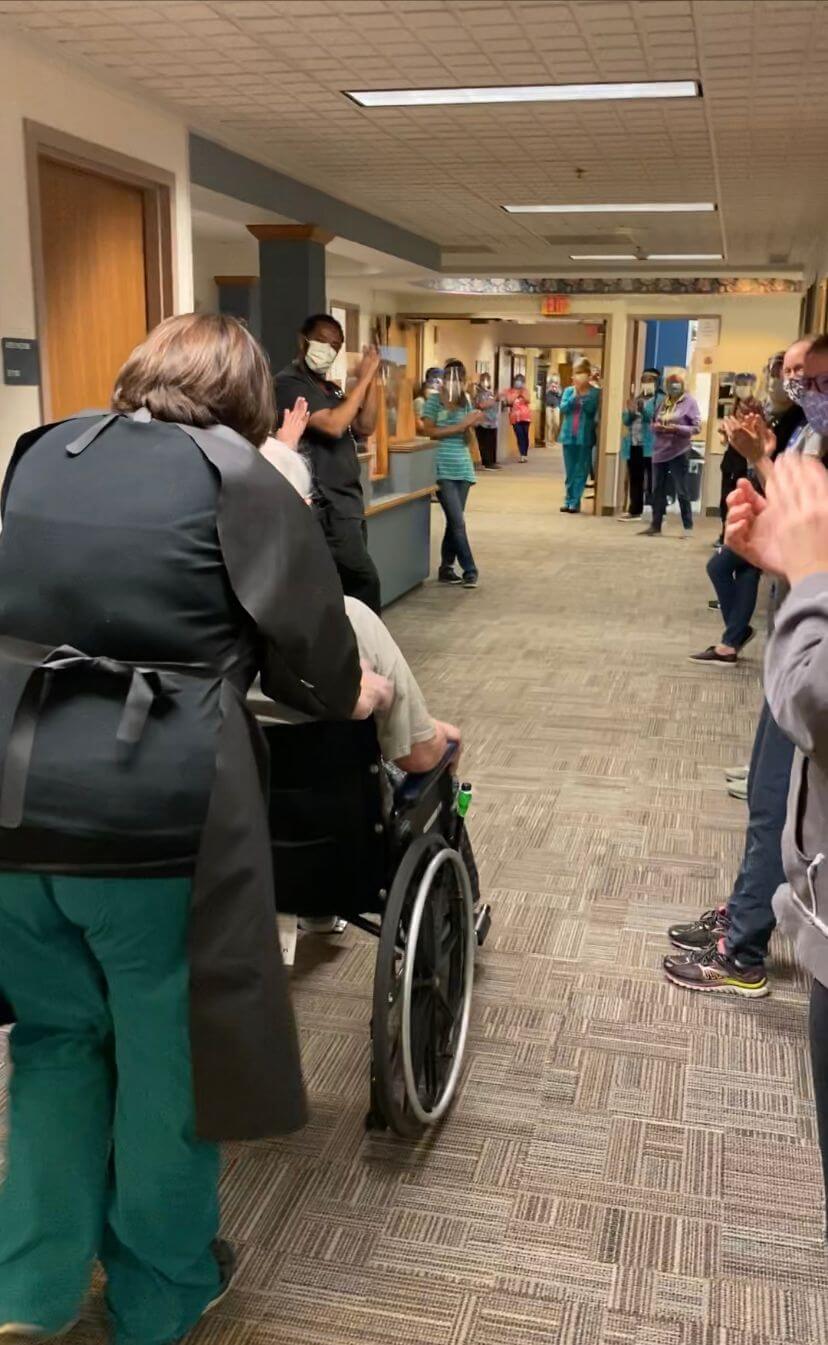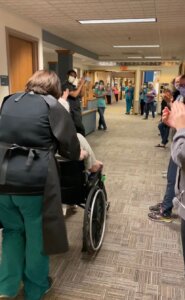 [ Above: Doug Backhaus graduated from the MMH COVID-19 unit last April after fighting the disease for five weeks.]
Best laid plans
Plans for the 100th Anniversary of Minnesota Masonic Home began in early 2019 as several committees formed to consider how best to commemorate the milestone. Minnesota Masonic Charities' 15th Annual gala formally kicked off the year-long celebration with a 1920s-themed event last September that welcomed esteemed vocalist Prudence Johnson and pianist Dan Chouinard as headliners. The campus was decorated with anniversary banners and all sorts of events were scheduled to recognize the many years of compassionate care provided by the Home and the lives lived there. An employee carnival was scheduled for early August 2020. It was, in short, a time of great expectations.
In early 2020, news of the novel coronavirus, COVID-19, and its devastating effects on vulnerable populations immediately shifted the focus of MMH's administration and staff. Instead of planning festive gatherings, MMH leaders turned their attention to the protection of patients, residents and employees as the pandemic crept across the country.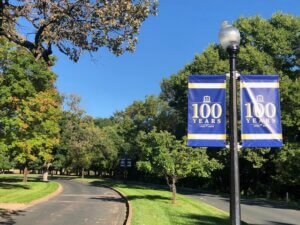 [Above: The Minnesota Masonic Home campus was decorated in preparation of the Home's 100th Anniversary. COVID-19 shifted the focus of MMH leaders from celebration to preparation.]
Values that endure
A surge of often-conflicting information and fear threatened to thwart forward movement. What became immediately clear to the Home's Administrator, Beth Schroeder, was that a high level of communication–with public health advisors, employees, residents, patients and families–was critical to ensure the best practices were put in place and everyone remained informed.
"It is so important to communicate precisely and often in a time of crisis," said Schroeder. "We really worked as a team, and were quickly able to reassure families and residents and keep our healthcare workers fully apprised of what needed to be done."
The simple but effective approach is one drawn from the Masonic principles of Brotherly Love, Relief and Truth, guiding principles of Minnesota Masonic Home since its founding. All who serve a the Home enjoy a culture woven with a commitment to compassionate care and truthful communication. As such, Schroeder understood that efficient systems would quickly need to be established to keep everyone informed of the evolving situation.
The MnMasonicHome.org website included an "Infection Control Update" alert and an emergency hotline number was created to keep loved ones up-to-date. All families of residents were contacted, initially with letters, eventually with daily text or email messages and weekly letters, to provide ongoing information about infection rates. A "Stay Connected" area of the website let loved ones know how to support their quarantined family members.
"Truth" imparted to employees meant keeping them informed about the weekly-amended CDC and Minnesota Department of Health (MDH) guidelines as the virus infiltrated Minnesota, complicating an already complex management process. The Home's administration and care teams had to nimbly respond as new protocols were introduced.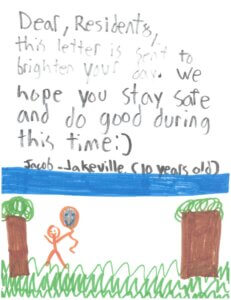 [Above: MMH residents received encouraging notes from community members during the pandemic.]
The Masonic difference
An nimbly they did. In early February, the MMH administrative team and staff reviewed emergency preparedness procedures and secured important Personal Protective Equipment and other critical supplies in anticipation of shortages. Non-essential visitors were restricted from the Home in March and communal dining was halted. Strident protocols for infection control, including staff and resident screening and sanitization measures, were implemented long before the state mandated such actions. The dedicated COVID unit was prepared and opened by March 27 and remained empty until Doug Backhaus and other residents arrived in mid-April.
The MDH set a quarantine for new admissions to congregate facilities at 14 days, but the Home's staff was not confident with. that number. They'd found that some admitted patients began showing symptoms of COVID on the 14th or 15th day of their arrival. MMH set their own quarantine timeline at a stricter 21 days, and also required two negative COVID tests before a patient could move of the of the COVID unit to another part of the Home.
"There were a lot of calls to our medical director," said MMH Infection Preventionist Katie Pelofske. "We adopted a 'when in doubt, err on the side of caution' approach, acting quickly on our experiences."

[Above: Director of Therapeutic Recreational Services, Kelly Maloney, serenaded a resident during the pandemic. Group gatherings were temporarily cancelled to limit resident exposure.]
Ongoing challenges
Unfortunately many of the staff's experiences were out of their control. Access to testing for congregate facilities was sporadically fulfilled. Nurses who may have been exposed to the virus could not get tested. And those who could experienced severe delays in test delivery and processing. Ongoing shortages in critical supplies, constantly changing and complex regulations, and a workforce mandated to stay at home at the first sign of a sniffle added to the challenges. New protocols also meant employees were needed to fulfilled additional tasks, such as monitoring temperatures and washing and folding thousands of hospital gowns per week. The landscape changed daily.
"It has been a humbling experience," said Pelofske. "We couldn't have pulled through this without a strong team. To be able to work on this team and watch everybody come together, that has been very rewarding."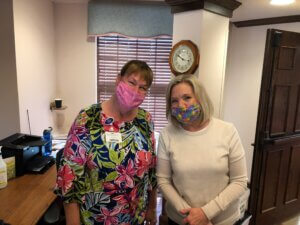 [Above: At the pandemic's onset, Personal Protective Equipments such as masks were scarce. The St. Paul Order of the Eastern Star sewing unit support Minnesota Masonic Home by creating hundreds of masks for non-essential workers.]
How COVID infiltrated
Media reports have painted a bleak picture of congregate living facilities as culprits of COVID-19's spread due to poor infection control protocols and cramped conditions. That was simply not the case for Minnesota Masonic Home. In face, MMH held COVID off for weeks while the virus spiked elsewhere, in large part due to its strict infection protocols adopted early in the pandemic's cycle. So how did COVID get into the Home?
For some time it was not known that asymptomatic persons could carry and transmit the virus. The Work Health Organization (WHO) stated early on that it was not clear if asymptomatic people carried enough "viral load" to be able to infect others, only to retract that statement later. In actuality, the only way an infection can enter a locked down facility in which all staff are monitored for symptoms and following infection protocols is if someone who is asymptomatic does enter. That was the case with Minnesota Masonic Home last April.
In one instance, an asymptomatic patient transferred from a hospital to MMH's Transitional Care Until and then developed COVID-19 symptoms.
"Hospitals are not required to test patients prior to releasing them to congregate living facilities," said Katie Pelofske. "There are different rules and expectations for different healthcare organizations."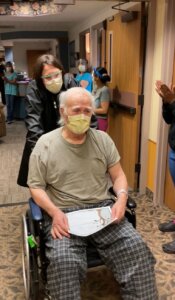 [Above: Resident Doug Backhaus responded emotionally to the overwhelming outpouring of support of MMH staff upon "graduating" from the COVID-19 unit. Escorting him is Infection Preventionist, Katie Pelofske.
A new normal
The flash in COVID-19 infections that occurred at Minnesota Masonic Home spiked quickly in April and May and has been successfully contained; but MMH staff continue to be vigilant. Pelofske believes the MMH team's no-tolerance approach to signs of symptoms played a big part in their success in stopping the virus' spread. Employees may not enter the building with any sign of symptoms, and must self-quarantine if symptoms persist. Residents are monitored often and isolated and tested if symptoms arise.
Back in his room on the second floor of the Home's "D" building, Doug Backhaus reflected on his recovery from a disease that remains lethal to many his age.
"I used to walk the circumference of this floor two times, twice a day," he said. "Now I'm working on getting out of this wheelchair."
Pelofske, who monitored his recovery, cites Backhaus' determination as the underlying factor that got him well.
"He worked so hard to get better," she said. "Doug is a smart guy. He knew what he had to do."
Backhaus entered the COVID unit too weak to bear weight, but worked with physical and occupational therapists to walk again. He kept his Incentive Spirometer, a device used to strengthen lung capacity, on his chest and used it often. His recovery kept him on the unit for five weeks, finally resulting in two negative COVID tests.
"I was able to be the one to tell him that his second test was negative," said Pelofske. "It was amazing for him to have that success. He was in tears, I was in tears!"
As for Backhaus, his graduation from the COVID unit and return to his regular room as an occasion he will never forget.
"For all the years I taught and coached," he said of the cheering staff that celebrated him down the halls and back home, "I've never had a celebration quite like that."